About
We're a marketing studio. We handle advertising, design, member contact and more for over a hundred credit unions.
Need a multi-channel campaign to promote a product? How about an automated HTML email system? Want a message targeted to specific members? We can take your marketing efforts to the next level.
Products
Click on a tag to sort by type. Click a product title for details.
Manage your social media accounts all at once, or have us manage them for you.
Communications news
Here's what we've been up to!
April 28, 2021
Xtend, Inc., the Grand Rapids, Michigan-based multi-owned cooperative CUSO, is excited to announce the launch of Quick Pick campaigns. While Xtend's RevGen and Multi-Channel campaigns have been an excellent resource for credit unions as an arm of their marketing, a demand for a cost-effective product offering a quicker turn around has brought about the creation […]
March 26, 2021
Xtend, Inc., the Grand Rapids, Michigan-based multi-owned cooperative CUSO, celebrated a successful year of campaign management in 2020, and is pleased to see the momentum continue as they march through 2021. Xtend completed a total of 121 campaigns with outreach expanding to over 660K members through email and 20K outbound calls made; resulting in nearly […]
January 18, 2021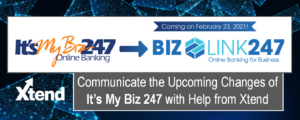 Let your members know about the upcoming changes to It's My Biz 247, which will become BizLink 247 Online Banking for Business on February 23rd! Xtend is offering discounted pricing on an outreach campaign designed to help you communicate these exciting changes to your members. We have two campaign formatting options available to fit your...
Read more »
November 13, 2020
Xtend, Inc., the Grand Rapids, Michigan-based multi-owned cooperative CUSO, is excited to announce enhancements to their email platform. Xtend sends millions of emails annually for their 300 credit union clients. With the implementation of this new user-friendly platform, the approval process for email proofs is streamlined, increases effective communication among clients, and provides one source […]
November 10, 2020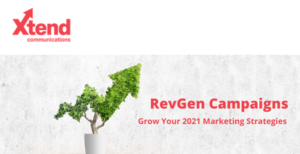 Xtend offers cooperative marketing solutions designed to generate revenue for your credit union.  Take advantage of Xtend's annual RevGen program for your marketing campaigns in 2021 and allow us to drive results for you! Join us on 11/12/2020 at 2:00 PM ET to learn more about launching up to 6 flexible marketing campaigns with RevGen...
Read more »
October 22, 2020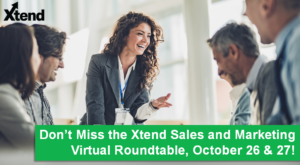 Join Xtend for our Sales and Marketing Virtual Roundtable, October 26th and 27th!  During this event we will dive into up-to-date sales and marketing topics specific to credit unions.  Engage with other industry professionals over best practices, thought-provoking insights, challenges from the past year and trends for the future.  Take a look at our schedule...
Read more »
September 30, 2020
Xtend and SPE Federal Credit Union partnered together for a successful CLIP (Credit Limit Increase Program) campaign that launched in August and wrapped up in mid-September. Out of the 153 memberships whose credit limits were raised, 105 have used their credit card, totaling 918 targeted transactions and over $61,000 spent during the campaign period. "2020 […]
September 18, 2020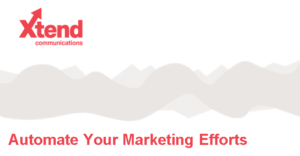 Looking for a one stop solution for your HTML marketing needs?  Member Reach can help! Member Reach offers over 40 automated HTML emails to choose from, as well as access to our eInfo and OBC products. Interested in learning more? Click below to register for our Member Reach webinar, which will be hosted on Thursday,...
Read more »