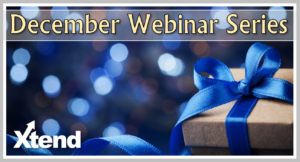 Coming Up Next Week!
Each month, Xtend offers FREE webinars focused on lending, marketing, and member service; these engaging webinars provide credit unions with helpful products, services, and industry tips to give them the leading edge.
Tuesday, December 11
2:00 PM – 2:30 PM ET
Join us for an overview on what services Xtend SRS can offer to your credit union on a quarterly basis.
Wednesday, December 12
2:00 PM – 2:30 PM ET
Ready to Put the Mortgage Servicing Factory to Work?
Lender*VP offers mortgage servicing and escrow processing services in collaboration with the Xtend mortgage servicing team.  We make it easy for you by providing services such as Escrow Processing and Investor Reporting.
Join us for this informative webinar and let us put our team of experts to work for your credit union!
Thursday, December 13
11:00 AM – 11:30 AM ET
RevGen – Reach Your Marketing Goals
Xtend offers a cooperative marketing solution for your credit union's short-term promotions and long-term lending and deposit goals.  Engage in a series of turn-key marketing campaigns that leverage the concepts of targeting and segmentation, along with Xtend resources.  Take the pressure off of your member marketing needs and utilize Xtend's RevGen Marketing Campaign Program to spread the word about your promotions, products, and services through four key marketing channels.
Join us to learn more about using up to 6 flexible marketing campaigns with RevGen at one flat, affordable rate.