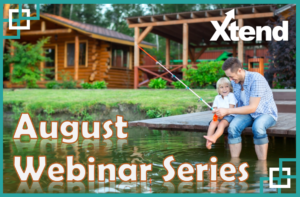 Coming Up Next Week!
Each month, Xtend offers FREE webinars focused on lending, marketing, and member service; these engaging webinars provide credit unions with helpful products, services, and industry tips to give them the leading edge.
Tuesday, August 14
2:00 PM – 2:30 PM ET
Ever wish you had an automated email sent to each new member when they join your credit union?  What about an email to all members without a checking account with your credit union?
Join us as we take a deep dive into the details of the Member Reach program.  This webinar is geared toward current Member Reach client who would like to learn more about the program or brush up on their Member Reach education.
Wednesday, August 15
2:00 PM – 2:30 PM ET
HTML eStatement Notification – Bring Your Brand into Your eStatement
Xtend presents the opportunity to turn your standard plain-text eStatement notification into an interactive, action inspiring eStatement notification.  The eStatement notification doesn't have to serve as simply a notification that your member's eStatements have been posted.  Xtend encourages you to take your marketing strategy to the next level by using this opportunity as another way to effectively communicate promotions offered by your credit union.
Join us to learn how making the switch is easy and affordable!
Thursday, August 16
1:00 PM – 1:30 PM ET
OLLE – Contest Lead Generation
Traditional advertising still has its place, but chances are that many consumers will never hear your radio spot or see your television commercial.  That's where digital opportunities come into play.  OLLE is the easiest way for you to turn your Facebook fans and Twitter followers into new members or even new loans.
Join us to learn more about this amazing new software and what it can do for your credit union!  Learn about its great features including its fully-customizable design, its loan calculator and more!