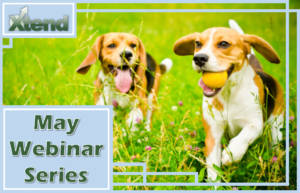 Coming Up This Week!
Each month, Xtend offers FREE webinars focused on lending, marketing, and member service; these engaging webinars provide credit unions with helpful products, services, and industry tips to give them the leading edge.
Tuesday, May 15
2:00 PM – 2:30 PM ET
HTML eStatement Notification – Bring Your Brand into Your eStatement
Xtend presents the opportunity to turn your standard plain-text eStatement notification into an interactive, action inspiring eStatement notification. The eStatement notification doesn't have to serve as simply a notification that your member's eStatements have been posted. Xtend encourages you to take your marketing strategy to the next level by using this opportunity as another way to effectively communicate promotions offered by your credit union.
Wednesday, May 16
2:00 PM – 2:30 PM ET
Losing the Love: Understanding Member Retention
While members may not verbally inform you that they are leaving the credit union, their actions often do. Join us to learn about Xtend's upcoming marketing campaign focused on member retention.
Brandon Shaw, Xtend's Marketing and Business Intelligence Analyst, will show you about the new Xtend program that communicates with these members in order to gather insight, and potentially save the relationship.