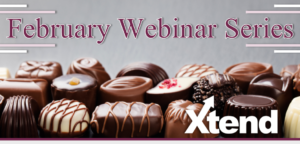 Coming Up This Week!
Each month, Xtend offers FREE webinars focused on lending, marketing, and member service; these engaging webinars provide credit unions with helpful products, services, and industry tips to give them the leading edge.
This month, we are spotlighting the Xtension Call Center team!  Look for our spotlight webinar on the Call Center team, coming on February 20th.
Tuesday, February 13
2:00 PM – 3:00 PM ET
2-Way Landline Texting, Powered by Zipwhip
Text enabling your existing landline number lets you get in a text messaging relationship with your customers. You no longer need to source a different number for texting—one number does it all. Member Service, Lending Support, and Collections are the most popular uses of this powerful communication tool!
Don't forget to use "Keywords" – Your member can text in a word like HOURS, and receive your pre-configured response automatically. Or how about texting in APPLY and receive a reply with a link to your online loan application (if mobile-friendly)!!
Try it right now! Text PRICING to 866-981-4983 and you'll receive an automatic answer in seconds!
Don't have your phone on you right now? No worries – Bring your mobile phone with you to the webinar to actively participate in our live demo!
Wednesday, February 14
2:00 PM – 2:30 PM ET
OLLE – Contest Lead Generation
Traditional advertising still has its place, but chances are that many consumers will never hear your radio spot or see your television commercial. That's where digital opportunities come into play. OLLE is the easiest way for you to turn your Facebook fans and Twitter followers into new members or even new loans.
Join us to learn more about this amazing new software and what it can do for your credit union!  You'll learn about its great features including its fully-customizable design, its loan calculator and more!
Thursday, February 15
11:00 AM – 11:30 AM ET
With their unique Channel Valet

service, RevelTV's experienced technical and creative teams provide the easiest, most cost-effective digital signage solution available anywhere.
By outsourcing all of the components for digital signage to RevelTV (including technical and graphic design, content creation, scheduling, and administration of complex server software) companies that want digital signage or already have video displays in place don't have to staff expensive personnel to manage the system.